It was a pleasure to attend Premier Li's speech this week in London, against the prehistoric backdrop of the National History Museum.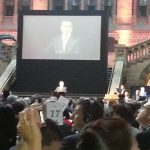 The UK-China Business dinner was a fascinating event, reaffirming the strengthening relationship between the UK and China. The event was used as a platform to announce China's commitment to invest £14 Billion in infrastructural developments and energy in the UK.
The UK is now the most popular destination for Chinese investment in Europe, with more investment having been made in the last 18 months in the UK, than in the last 30 years in total.
The event also coincided with news that the Bank of England has appointed The China Construction Bank as the London renminbi (RMB) clearing house. The appointment is part of a plan to make London a hub for Chinese currency dealing.
Chancellor George Osborne said the bank would be "hugely important in underpinning the future growth of London's RMB business".
In addition to the news on currency, it was also announced this week that Britain is overhauling its visa system to make it easier for Chinese tourists and businesses to visit the UK.
China is the number 1 luxury spender worldwide, making up 29% of the total global luxury spend in 2013, a December report by consultancy firm Bain & Company states.
Spending by Chinese tourists in Britain is expected to surge over the 1 billion pound mark by 2017, an increase of 84%  from 2013 levels.
All bodes well for building on this relationship going forward.

I had the pleasure of visiting Google HQ in Dublin this week to meet with our account management team, on Regroup business.
Every time I meet with Google, they flag up the huge potential reach offered by YouTube for advertisers looking to raise brand awareness to reach a mas market.
The potential offered by YouTube is undoubtedly massive. According to Nielsen, YouTube reaches more US adults aged between 18-34 than any other cable network.
YouTube is the Western World's 2nd biggest Search Engine (albeit for Video). Like with many Social Media channels, that road is littered with misfiring campaigns, by Brands, sometimes using the media for the sake of being involved.
However there are some incredible success stories. I think it is heartening to see exciting, young brands embracing Social, executing campaigns on comparatively low budgets, but absolutely hitting the sweet spot in term of messaging, media usage, and playing to the viral potential.
A great example, and one often used by Google themselves (YouTube's owners) is these guys – GoPro, who make portable cameras tailor made for outdoor sports/ extreme sports and in fact anything else outdoor. Their YouTube channel has become a serious concern with inexpensively made, but professional video clips often exceeding a million views.
Of course their products are tailor made for the making of great viral material, and they are capitalising on this. Check out their Channel – https://www.youtube.com/user/GoProCamera
And have a look at this clip below that reached over 3 million views – amazing what can be achieved with a few cameras and a skier.
<iframe width="560″ height="315″ src="//www.youtube.com/embed/C-y70ZOSzE0″ frameborder="0″ allowfullscreen></iframe>
So there has been a few weeks since Google's latest major algorithm update- Panda 4, rolled out in May. What has been the impact?
The key thrust of Panda 4 has been a side-swipe at sites with low quality content. Nothing radical there, given that has been a key part of Google updates of late. There have been some major scalps in the process – notably eBay and Ask.com, with some commentators suggesting that outward signals suggest eBay may have just lost up to 80% of its' organic traffic – ouch!
Some may argue that this has been coming for some time. It wasn't uncommon to see eBay and other giants lording it up with 2 or 3 organic rankings on the same searches on Google, crowding out other specialist retailers. We know that recent Google updates have favoured the silo-ed more specialist sites, so this news isn't altogether surprising. We believe at Regroup that this latest update may be favouring smaller sites, though still early days.
Alongside the theme of penalising sites for poor quality content, sites that have heavily used syndicated content in the past may find themselves on the receiving end of a Panda 4 punch.
Commentary suggests there have been some winners in the process – such as glassdoor.com, emedicinehealth.com, and shopstyle.com to name but a few.
We continue to watch this space.