Happy to announce the launch of The LabGroup,  a think tank and incubator for technology enabled business ideas.
The LabGroup is a venture between The Creative Lab and Regroup Media, a venture  dedicated to bringing to market the next generation of big ideas in this space.
More info here – http://www.thec-lab.co.uk/The%20Lab%20Group.html
Watch this space
Recent months have seen Twitter moving closer to making its platform a shopping destination, which given the success of similar models for We Chat recently, makes a lot of sense, and will undoubtedly unlock huge monetisation potential for the Social giant.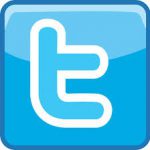 Twitter announced last month that its testing 2 new ways to help users find items on the web to surf and possibly purchase;
Product Pages – 

Firstly, new Twitter Product 

pages

 

will include product descriptions, prices,

and the 

option to purchase

certain

 products. 

The new pages will organise related tweets about brands and products on dedicated pages. Pro

duct pag

es will show other users' tweets about that product, together with prices, and, sometimes, a buy button. 

For instance, t

he publishing company Penguin Random House, on their Twitter profile, you could redirect to a product page for Andy Weir's novel 

The Martian

. You could then read what other people are tweeting about the book, and decide if you wanted to buy it, which you could do directly from the product page. Retailers can choose if they want to sell on the service or link out to an alternate page.

Collections – Secondly, Twitter 

is rolling out what it's calling Collections — a way for brands and celebrities to curate products and recommend them to followers. Demi Lovato, and Nike are a few examples of the 41 partners that have already curated collections.This feature is more about browsing, while the product pages are about shopping.
These developments are hot on the heals of Twitter adding a 'buy' button last year, on some promoted tweets. The implementation of product and collection pages would seems to be part of an effort to get users to think of Twitter as a shopping destination.
For more information, check this link, on Twitters blog – https://blog.twitter.com/2015/testing-new-ways-to-make-it-easier-to-discover-products-and-places 
Watch this space.
I was lucky enough to be invited to the China Marketing & Strategy Programme this month, hosted at Fudan University, in Shanghai. It was a great event, sponsored by the London Mayor's Office, in conjunction with the UKTI and KPMG.
The week long course was intense and covered all the key areas necessary for brands wishing to enter the Chinese market. What came out of the event was that entering China is by no means a straight forward process for Western businesses.The rule book in the west can be thrown out the window, but of course the rewards for those brave enough to make the leap to the East are well worth the effort.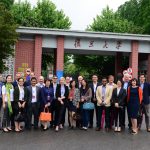 Key learnings:
There were many learning that came out of the event, I have summarised a few of the most pertinent themes below:
– Localise Strategy – Make sure strategy is properly localised for the Chinese market. The example of EBay's failure to develop a local strategy for China was highlighted as the main reason for their ultimate failure in China, much to Alibaba's gain. EBay failed to develop a website designed specifically for a Chinese audience, instead using their one-size fits all web interface, which wasn't suitable for a Chinese audience. Likewise their failure to understand the Chinese consumer preference for pricing to go down, not up, as is the bidding process on EBay, was another contributing factor to their failure to crack China.
For more information on EBay's failure in China, see this Forbes article – http://www.forbes.com/sites/china/2010/09/12/how-ebay-failed-in-china/
– The Importance of the Joint Venture – Those Western brands enjoying success in China are also those brands that fully understand the importance of entering the Chinese market in a joint venture capacity. The joint venture model allows western brands to tap into market/ consumer insights that would otherwise be hard earned. Walmart were used as an example of a Western retailer entering China in 1996 in a JV. Walmart now have sales exceeding $7B in China.
Many Western brands enter the Chinese market in this capacity. One key theme is that whilst brands do enter China with a familiar brand identity, often that is the only thing that is the same as their Western counterpart. A visit to KFC in China for instance is a wholly different experience to that of visiting a KFC in the US or the UK. The restaurants are larger in China, the food is locally sourced, with different ingredients, and the focus is on people eating in as opposed to taking away, to better fit the Chinese culture.
For more information on Wal Mart's success in China, see this Forbes article:- http://www.forbes.com/sites/petercohan/2012/05/18/how-did-wal-mart-crack-open-china/ 
– The Importance of Marketplace – We learnt about the importance of Marketplace in China.  Marketplace refers to B2C eCommerce  channels, similar to Amazon in the West, such as Tmall and  JD, these being key retail channels to reach the ever-expanding online market in China (650 million and rising). Tmall accounts for c 50% of all online clothing/ footwear sales in China.
One key point, that may surprise Western brands, is that gaining visibility of Tmall can be relatively straight forward. Western brands can get on Tmall Global for instance without having a dedicated presence in China. This is good news for Western brands, wishing to assess the market before making a full-scale leap into this market.
– Copying is the highest form of flattery – China is well know for its relaxed laws on fake products, though this is changing. One key characteristic of the Chinese product market is the prevalence of close-copies to Western-counterparts. In name and in design. The Iphone is widely copied for instance.
The automotive industry is not immune to this legal, and widely practiced form of plagiarism. For instance the Land Rover is a big seller in China, and there is a home-grown brand called the Land Tiger, which is almost exactly the same in look, and branding.
What this reiterates is the need for any Western brand entering this market to pay due diligence to the need to protect IP thoroughly, and to not underestimate the local markets ability to copy, unless IP protection is bullet proof.
 – Shanghai Free Trade Zone (SFTZ) – One of the highlights of the event for me was a trip to Shanghai's Free Trade Zone. The SFTZ was set up in 2013, and is the first of its type in mainland China. The SFTZ covers an area of 46 square miles in close proximity to Shaghai's port. Commodities entering the zone are not subject to duty and customs clearance, as is the case outside the zone, making trade more open.
The Zone also cancels out a number of financial requirements for setting up a company in China, including the minimum registration capital of RMB 30,000 for limited liability companies, the RMB 100,000 minimum for single shareholder companies, and the RMB5 million minimum for joint stock companies. Moreover, under the SFTZ's new capital registration system, foreign investors are no longer required to contribute 15-percent capital within three months and full capital within two years of the establishment of a foreign invested enterprise.
In addition to the financial freedoms, the SFTZ also has a simplified procedure for foreign investors to establish a company in China. The "one-stop application processing platform" unique to the Zone requires that all application materials be submitted to and handled by the Industry and Commerce Authority (AIC) in the Zone. The relevant approval and filing procedures are then conducted via inter-departmental circulation, after which the various licenses and certificates (including the business license, enterprise code certificate, and tax registration certificate) are issued to the applicant(s) by the AIC.
This means that applicants may obtain all the necessary documents for company establishment in one place, in contrast with outside the Zone where applicants must run around between different authorities for the issuance of various certificates.
There are a raft of other inducements for Western businesses to set up in the Zone. More information can be accessed here:- http://en.wikipedia.org/wiki/Shanghai_Free-Trade_Zone.
The Zone makes setting up and doing business in mainland China far easier for Western businesses. It has also set a precedent for Western businesses to trade in China, and hopefully paves the way for an opening up of the market.
All in all it was a very useful session, and thanks to the Mayor's Office, the UKTI, KPMG and Fudan University for making it all possible.
As MD of Regroup China (part of Regroup Media), we help our Clients develop strategies for establishing and promoting a presence in China on digital channels. Over the last 18 months or so there has been a significant change in market demand for luxury items in China.
We have seen the following trends/ market insights in recent months in this fast-changing market:
Spending on Luxury Items
• Spending on luxury items has dipped in mainland China this year.
• Interestingly overall luxury spending per head hasn't gone down though, just more and more Chinese nationals are spending overseas, avoiding restrictive mainland tariffs.
• We are definitely seeing this in evidence in the UK, with greater tourist-spend from Chinese nationals, particularly in the capital, but also other popular tourist destinations such as Bath and Cambridge.
Implications for Luxury Brands
• Given the imposing tariffs in mainland China, a lot of Luxury brands are looking to capture their market elsewhere, such as:
a) the lucrative Chinese shopping tourism market in Cities such as London, Paris, New York,
b) establish a presence in the emerging duty free zones such as Hainan on the mainland, where the tariffs don't exist.
Masstige Brands
• Interestingly, the mainland tariffs hasn't hampered a lot of 'masstige' brands though such as Michael Kors, Coach, Kate Spade and Longchamp, who are all thriving in mainland China.
• There does seem to have been a negative reaction to the top luxury Western brands in China, where consumers are less interested in 'bling' and more focused on quality – see these recent articles in the Guardian/ Forbes:- http://www.theguardian.com/fashion/2014/sep/21/luxury-goods-gucci-prada-china-resistance-to-bling, http://www.forbes.com/sites/kenrapoza/2015/02/05/for-luxury-retailers-chinese-women-take-fashion-recess/
Tapping into the Increasing Shopping Tourism market from China
Key points to consider here when targeting this audience are:-
– the different travel calendars i.e. Golden week – October and singles day (11/11 – the biggest e-commerce day in China)
– the importance of Social Media to reach this market. An estimated 82% of Weibo users purchased a product online and four fifths of users searched the platform for a product or service to buy in the third quarter of 2014. With over 150m monthly users, primarily between the ages of 20-35, Weibo proves itself to be a cost effective marketing tool for European online retailers to attract the Chinese consumer.
Luxury Retailers are upping their e-commerce game
• Luxury retailers have been relatively slow to embrace the Web in China, and in particular mass market shopping platforms such as Tmall. But things are changing; when Burberry launched its Tmall store there was a drop in the fake market for Burberry products, showing the scope for protectionism as well as market growth in these channels.
• There is also a buoyant market in luxury e-boutiques, such as ShangPin and Yoox, which presents opportunities for Western brands.
The Shifting Social Landscape
• Social is key to reaching the luxury market.
• There are two main channels to consider to tap into the high-end/ Fashion space; WeChat & Sina Weibo.
• WeChat has gained a significant amount of ground over Sina Weibo this year.
• In terms of e-commerce in these channels; Alibaba has invested in Weibo while Tencent has teamed up with Alibaba rival JD.com. As a result, only JD.com shops can sell directly through WeChat, while brands that want to promote their Tmall shops on the mobile messaging platform can only link out to them.
• Brands are only starting to develop their response to these complicated market trends, but 2015 will be the year that more labels develop clearer strategies to keep their brand DNA intact while embracing these channels.
Quality Versus Quantity
• When Weibo dominated the Social market in China, efforts were more based towards viral sharing – paying KOLs (top bloggers) for mentions, to up the volumes of shares. With the emergence of WeChat the focus is very much on quality of messaging, rather than quantity, WeChat's function as a 1:1 sharing network limits the number of posts an official account is allowed to make. The brands that will succeed here, will be the ones who get their customers to share quality information with 10 of their closest friends rather than 100 random followers.
Big data
• The rise of WeChat and e-commerce in China's luxury market means that brands will have more details on their consumers' demands and shopping habits than ever before. Expect a growing number of brands to use digital tools to improve CRM, track in-store customer engagement, and pinpoint VIP customers in order to improve their Chinese clients' experience as well as brand loyalty.
Challenging times ahead for the Luxury market in China. lets watch this space.
For more information on Regroup China please click here:- www.regroup-china.com
This week was the first of our Digital China training sessions that my agency (Regroup Media) will host around major Cities in the UK.
We plan to run similar sessions every quarter under the banner "Regroup 4 China – Digital Futures for the World's biggest online market" which we will run with partner agencies based in China, training UK retailers on all things digital marketing for this ever growing market.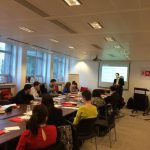 Our first session was a great success, largely thanks to the incredibly knowledgeable Cyril Drouin, who runs Bysoft China, who ran the training session at the CBBC's offices in Victoria, London.
A big thanks to Cyril and the CBBC for what proved to be a very enjoyable and informative session.
Full details on future events can be found here on the Regroup web site:- http://www.regroup-media.co.uk/seo-ppc-and-social-training/e-commerce-training-for-china/
There are uncertain times ahead for Google and other Western giants, such as Facebook, in Russia, in the wake of increasing restrictions on Internet freedom.
Google is closing its engineering office in Russia, in what appears to be a direct response to recent laws in Russia requiring foreign firms to store Russian users' data on servers located locally. Russian authorities say the move is designed to improve data protection, critics conversely suggest it is a veiled encroachment on foreign firms.
This is the latest ruling that is likely to affect the spirit of openness on the Internet in Russia, bloggers with more than 3,000 followers for instance are now required to register their personal information with the government, a regulation that has been described as an intimidation tactic.
So what does the future hold for Google in Russia?
Short term, Google continues to flourish in Russia.
A recent poll carried out by Morgan Stanley showed that Google is increasing its market share against Yandex, Russia's leading search engine, with a suggested 51% of mobile users in Russia stating they frequently used Google, over 41% using Yandex.
Google's increases on mobile may be partly attributable to the widespread use of Android in Russia, but it is estimated that Google now has c34% of the overall search engine market share in Russia. (Source liveinternet.ru – Q1 2014).
Is Russia likely to go the same way as China, in restricting Google's modus operandi? Eric Schmidt seems to think so:-
http://www.theguardian.com/world/2014/dec/12/google-closes-engineering-office-russia
We wait to see.