This week was the first of our Digital China training sessions that my agency (Regroup Media) will host around major Cities in the UK.
We plan to run similar sessions every quarter under the banner "Regroup 4 China – Digital Futures for the World's biggest online market" which we will run with partner agencies based in China, training UK retailers on all things digital marketing for this ever growing market.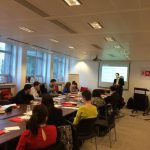 Our first session was a great success, largely thanks to the incredibly knowledgeable Cyril Drouin, who runs Bysoft China, who ran the training session at the CBBC's offices in Victoria, London.
A big thanks to Cyril and the CBBC for what proved to be a very enjoyable and informative session.
Full details on future events can be found here on the Regroup web site:- http://www.regroup-media.co.uk/seo-ppc-and-social-training/e-commerce-training-for-china/
There are uncertain times ahead for Google and other Western giants, such as Facebook, in Russia, in the wake of increasing restrictions on Internet freedom.
Google is closing its engineering office in Russia, in what appears to be a direct response to recent laws in Russia requiring foreign firms to store Russian users' data on servers located locally. Russian authorities say the move is designed to improve data protection, critics conversely suggest it is a veiled encroachment on foreign firms.
This is the latest ruling that is likely to affect the spirit of openness on the Internet in Russia, bloggers with more than 3,000 followers for instance are now required to register their personal information with the government, a regulation that has been described as an intimidation tactic.
So what does the future hold for Google in Russia?
Short term, Google continues to flourish in Russia.
A recent poll carried out by Morgan Stanley showed that Google is increasing its market share against Yandex, Russia's leading search engine, with a suggested 51% of mobile users in Russia stating they frequently used Google, over 41% using Yandex.
Google's increases on mobile may be partly attributable to the widespread use of Android in Russia, but it is estimated that Google now has c34% of the overall search engine market share in Russia. (Source liveinternet.ru – Q1 2014).
Is Russia likely to go the same way as China, in restricting Google's modus operandi? Eric Schmidt seems to think so:-
http://www.theguardian.com/world/2014/dec/12/google-closes-engineering-office-russia
We wait to see.