e-Commerce in China – Training
Regroup to run an E-Commerce in China Training session in London, on 28th November, in conjunction with China Britain Business Council, and Bysoft China.
What you need to know to successfully market to China online 1 Day Training Session.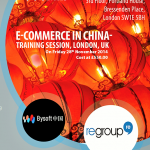 Summary
The Chinese e-Commerce market is the largest in the World and predicted to grow exponentially in the coming years.
The digital landscape in China is very different to the West and understanding how to tap into this ever-growing market is now a necessity for Western Brands and businesses alike.
Whether you are a brand or a merchant, this training session will help you to understand the market in China and what are the steps involved to tap into this market.
Training Goals
This 1 day training session will help you understand the following:-
– Key Digital Channels – What are the key digital channels in China?
– Consumer Behaviour – What is a typical Chinese Internet users behaviour when buying online?
– Local Strategy – Why your digital strategy has to be localised for China
– Budgeting for this market – What are the key considerations?
– Logistics – How to manage online operations in China
For more information, visit the Regroup website at:-
http://www.regroup-media.co.uk/seo-ppc-and-social-training/e-commerce-training-for-china/