Notes from Social Media Week, NYC
I had the pleasure of attending Social Media week in NYC in February, which was combined with the Chinwag/ UKTI organised NYC Digital Mission.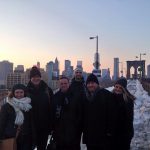 During the week long stay in a snow covered NYC, key learnings from both events are summarised below:-
– Watching US television, it struck me how much more important Instagram is to US advertisers compared to their UK counterparts, with ads often directing users to Instagram instead of Facebook/ Twitter.
– Facebook's acquisition of WhatsApp is intriguing, and made me think if it is truly worth $19 Billion, then what does that make China's (equivalent) WeChat worth, with their user base of 600M (and growing)?
– I was very impressed with the Unruly lab session at Social Media week, and am convinced they have nicely cornered a potentially huge market with their analytical tools/ Social predictive methodology – here is the Unruly story:http://www.youtube.com/watch?v=G6fmsXaBQdw.
– I was similarly impressed with a Mission visit to the Huge agency, in DUMBO (down Under Manhattan Bridge), in Brooklyn. Huge are one of the leading digital agencies in the US and clearly have an impressive set up. The ethos of open plan/ laid back exterior (dogs roaming the corridors) contrasts with the work ethic, and business acumen that has secured their place as a market-leader.
– At Regroup we have a firm view on international expansion, and I was very interested in cost-effective shared offices that we toured with the Digital Mission in the upcoming DUMBO area of Brooklyn (think Shoreditch).
All in all a great trip, and thanks to Chinwag and the UKTI for arranging such a great and informative event.For more info on the event – http://www.slideshare.net/Chinwag/digital-mission-nyc-2014-companies